31st Generation Shaolin Disciple Neil Genge
Neil is seen as a friendly and approachable instructor who can teach to students at all levels. With an impressive 44 years of martial arts experience, Neil has produced some great martial artists over his time. Some students have taken things to the next level by performing in public displays, winning competitions in Hong Kong, Europe and the UK and appearing on television as stunt doubles. Neil constantly motivates his students to fulfil their potential and his humour creates a positive atmosphere during training sessions, which makes every student come back for more.
Neil's Background
Head Instructor Neil Genge has trained in Shaolin Gong Fu at the Wushu Guan and Shaolin Temple since 1989.
In his time there he has been taught by
Shi DeYang
Shi Yan Ao
Shi Yan Zhuang
Shi Yan Xian
Shi Yan Chen
Shi Yan Xiang
Shi Yan Peng
Shi Yan Shuang
Shi Xing Xue
Shi Yan Bo
Shi De Tong
Shi De Cheng
Shi Xing Hao
Shi De Jun
Shi De Chao
Shi Xing Wei
Shi Xing Chen
Shi Xing Ue
Shi Xing Wei
Shi Su Gang
Master Liang Yiquan
Master Zheng Yaofeng
Shi Xing Ren
Neil had the honour to take discipleship with the venerable Grand Master Shi Suxi (the first Englishman to do so).
His ceremony was conducted behind closed doors at the temple.
He was given the buddhist name Shi De Yan.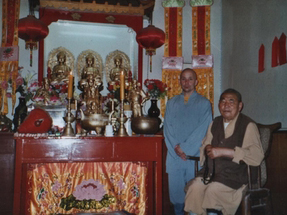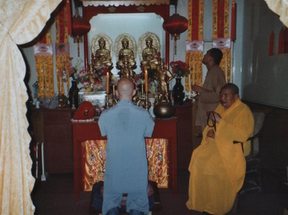 Laoshi Genge has been studying martial arts since 1974.
In his time training he has also studied:
Shotokan Karate with Sensei Bill Winfield (UK)
Lau Gar Kung Fu with Master John Russell (UK) and Master Andy Nation (UK)
Wing Chun with Master Lun Kai (Foshan), Master Yip Chun (Hong Kong), Master Leo Man (Hong Kong), Master Liang Guang Man (Foshan)
Yoga with Guru M Ramasamy (India)
Chen Taiji with Master Shi De Cheng (Shaolin) and at Master Chen Zhen Lei's School (Zheng Zhou)
Eagle Claw with Master Ou Rong Ju (Foshan)
7 Star Praying Mantis with Master Lee Kam Wing (Hong Kong)
Bagua Zhang with Masters Bing and Yong (Wudan Mountain)
Southern Tiger with Master Li (Fujian)
Drunken Boxing with Masters Lee & Li (Foshan)
Fanzi Boxing with Master Li (Foshan)
Chin Na with Master Shi Su Gang (Shaolin)
Qi Gong with Master Shi Ju Gang and Master Shi Yang Bo (Shaolin)
In 1994 Laoshi Genge was given permission by Master Lun Kai, (an original student of Grandmaster Yip Man), to teach Wing Chun. Laoshi Genge now fully devotes his time to teaching and promoting Traditional Gong Fu.
72 Shaolin Arts
Neil has had the good fortune to study some of the se arts form masters within the temple:
Two finger zen / handstand (the first non-asian to learn this skill)
Iron Palm – Stone break
Iron Fist – Brick break
Iron Head – Iron bar break
Iron Throat – Spear on throat
Iron Body – Stick break
Tong Zi Gong – Chinese Yoga
Needle through glass – (The first non asian to learn this skill)
Chopsticks through wood
Stone Locks – Strength training
Qi Gong – Internal / External